Former Liverpool great Luis Garcia won a lot of hearts in India by guiding Atletico de Kolkata to Indian Super League title. Back in the country recently for El Clasico screening held by La Liga authorities, the Spaniard spoke to Argha Bhattacharya on various issues. Excerpts: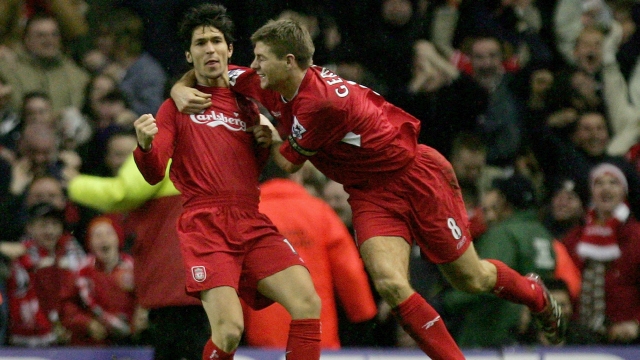 How did you feel coming back to India almost after two years and attending the Delhi screening of El Clasico?
India will always remain special for me because I had a chance to play in ISL 1 and lift the trophy. That meant a lot to me and my career as a footballer. Now, coming back after two years and feeling the love of the supporters made it a special occasion for me.
How was the atmosphere of the screening in New Delhi?
It was totally splendid. A sea of people had gathered and created quite a buzz.
What do you make of this initiative of La Liga to schedule El Clasico screenings in different Asian countries as per its prime time?
This is fantastic move to grow the popularity of La Liga in India and other Asian countries because the league is growing very fast globally and there are huge number of supporters around the world who want to watch the games. So bringing in former players to interact with fans during the games is a very good idea.
Barcelona badly needed a win against Real Madrid but they ended up drawing the game. What do you think of their chances of retaining the title?
See there are still a lot of games to be played. Both Barca and Real are special teams but along the way they will surely drop points here and there. There have been instances in the past when these two sides have led the league with healthy margins and at the end it had gone down to the wire. So we have to wait and see who emerges as a frontrunner to win the title.
Do you think Barcelona should have won the game considering the fact that Neymar and Lionel Messi had two clear cut chances of finishing the tie?
If you take into account the first half, Real Madrid played very well although they couldn't score and then they Barcelona were fantastic in the second. Probably they should have won but for me it was a fair result.
Do you keep tab on ISL?
Yes I follow the league because I have some friends in ATK and other franchises. I hope they reach the final and win another title.
Is there any particular reason why you didn't extend your contract with ATK in the second edition of the league, because reports suggested that they wanted to have you back.
Yes we were in talks and it was not that I didn't want a renewal but as I was considering a future apart from football, I decided to stop it there.
Mumbai and Delhi have showcased attacking brand of football this season, they are scoring a lot of goals and look quite different from earlier seasons. Any predictions about who would become the champions?
Yes Mumbai and Delhi are quite aggressive with players like (Diego) Forlan and (Florent) Malouda upfront but all the four semifinalists are very much capable of winning the league. As we have seen in earlier seasons, what matters most is the next two rounds.
There's a lot of controversy surrounding the existence of both ISL and I-League in India. Do you think the tournaments should be merged or should these be allowed to carry on separately?
I understand that there's a lot of talk about this issue but according to me, spectators are the ones who should be happy about what they are seeing and whole-heartedly come the stadiums regularly. Merging both the leagues can be a great option as more Indian players will get opportunities to showcase their talent. At this moment ISL is working well, so this idea can be given a shot in the next two to three years.
Isn't hosting a yearly league better than organising a two and half month competition?
Yes why not. A longer league is the way forward but first it has to be ensured that game is taken to the fans in every way. There's no point playing in front of empty galleries. Having said that, in the future, a couple of more teams can be added to elongate the competition.
You have featured in both ISL and other top leagues of the world. How do you rate this tournament?
I really like it. Till the last day of the group stage, two teams were fighting for one playoffs spot, that speaks volumes about the competitiveness. Here all the teams had a chance of securing a semifinal berth till the final stages of the tourney, you will not find this anywhere else. Also it has been three years now and ISL has grown rapidly and many Indians have garnered such amount of experience that they are ready for the national team.
You have chosen to be a football pundit but do you have plans of coaching in future?
Right now I am very happy to be a football pundit and want to continue doing this for sometime as I am enjoying it. But in the long run I will think about having a career in coaching.
Can we see a Gerrard-Garcia coaching combo in future?
(Laughs) Oh yes that will be very nice. He has had such a legendary career and it's difficult not to see him play. But I am sure he will be featuring in those legend's matches and will get a lot of time to decide what he wants to do in future.
Spain were virtually unbeatable during the 2008-14 period but after the departure of stalwarts like Xavi, Xabi, David Villa and Iker Casillas, they have not been able to replicate the results.
Spain won two Euros and a World Cup in a span of four years and that's not something which is very easy to repeat. Not many teams have even managed to achieve this feat. Also other teams like England, France, Italy have become very competitive. We have some outstading players in our team and they are evolving every year so I am very much confident that they will win a trophy in the near future.
In ISL 1, you had scored a goal against Kerla Blasters which was disallowed as the referree couldn't determine whether the ball had crossed the goalline. Do you think ISL should adopt advanced technologies?
Well, I can't say whether ISL authorities should go the technology way or not. It's good and we have to get a value of it. At the same time football is something where you would want fans debating a controversial decision. I feel if too much of technology is involved, we will lose out on this aspect of the game, and the sport will not remain as it should be.
Know Luis
Name: Luis Javier Garcia Sanz
Born on 24 June, 1978 in Badalona, Spain
Scored 22 goals in 150 La Liga games
Scored 30 goals in 121 appearances for Liverpool
Represented Spain at the 2006 World Cup
Trophy Cabinet
Liverpool
UEFA Champions League: 2004–05
UEFA Super Cup: 2005
FA Cup: 2005–06
Atletico de Kolkata
Indian Super League: 2014
Source by dnaindia…